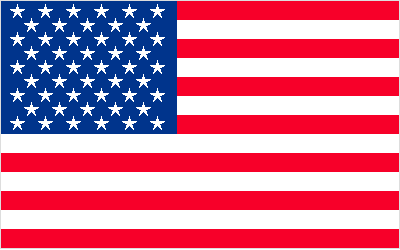 USA - California : Los Angeles International Airport ( LAX - KLAX ) Website : www.airport-la.com
Located west of the Los Angeles Californian metropolis by the sea, the International Airport "LAX" consists of several terminals located in the center of two complexes of two parallel runways. The north 24L/06R are for departures while 24R-06L instead used for landings. South of terminals, 25L/07R is used for arrivals while 25R/07L for departures. Traffic is very important in this field, in connection with the many movements of tourists coming to visit L.A. but also from the many theme parks nearby, from where to explore Hollywood. The major american national airlines and low cost will therefore serve this airport, and Southwest, Delta, United, American, Spirit and Skywest have even established their "hub". Many flights in large aircraft from Europe to major companies, but also East Orient via the Pacific Ocean. Pin is in the sights of the few companies using large aircraft such as Virgin Australia, Air Pacific, Philippine, Singapore Airlines A345, the second longest flight of the commercial aviation Singapore - Los Angeles non-stop. To the north there are mainly companies serving the North of the USA, therefore the tracks south of the south USA. Sity a cargo terminal in the extreme south of the tracks south of diversified welcomes flights around the world. Finally, note that the airport, subject of Los Angeles is "Spotter Friendly" which means you never have any problems with security or the police in your favorite sport, and some allow views of interesting photos!



Our trip started spotting 3 March 2012, we took advantage of super specials for U.S. Airways for our flight from Brussels to Los Angeles via Philadelphia. We kept our 'foot down' in Los Angeles, Super8 Motel near approaches 24R, bus or taxi to various points spot, but also for many other hits as Hollywood, Las Vegas, San Francisco and Santa Monica. Discover now the pictures taken at Los Angeles Airport, here is the 'best of' of 4, 8, 9 and 13 March 2012, both at Imperial Hill, that approach runway 24R and between terminals 1 and 2 for ground views.


Click on image to enlarge, all photos on the page were made by Cedric Valence
| 4, 8, 9 and 13 March 2012 | | | |
| --- | --- | --- | --- |
| | | | |
| A6-EGC - B777-31HER Emirates | N311US - A320-211 Delta | F-OSEA - A340-313X Air Thaiti Nui | B-6050 - A340-642 China Eastern |
| | | | |
| --- | --- | --- | --- |
| | | | |
| N320AA - B767-223ER American Airlines | HL7613 - A380-841 Korean Air | B-KPC - B777-367ER Cathay Pacific | CC-CQE - A340-313X LAN |
| | | | |
| --- | --- | --- | --- |
| | | | |
| B-2467 - B747-4J6 Air China | B-16112 - MD11F Eva Air Cargo | B-2435 - B747-481BSF Yangtze River | B-6053 - A340-642 China Eastern |
| | | | |
| --- | --- | --- | --- |
| | | | |
| lJA732A - B777-381ER ANA | EI-TAB - A320-214 Taca | DQ-FJL - B747-412 Air Pacific | SF-OJTN - A340-313X Air Thaiti Nui |
| | | | |
| --- | --- | --- | --- |
| | | | |
| N332AA - B767-223ER American Airlines | D-ABVT - B747-430 Lufthansa | 4X-ECC B-777-258ER ElAl | B-2467 - B747-4J6 Air China |
| | | | |
| --- | --- | --- | --- |
| | | | |
| CC-CZU - B767-316ER LAN | A6-ECO - B777-36NER Emirates | B-6053 - A340-642 China Eastern Skyteam | B-6050 - A340-642 China Eastern |
| | | | |
| --- | --- | --- | --- |
| | | | |
| N172HQ - Embraer190 Frontier | N177HQ - Embraer190 Frontier | N229UA - B777-222ER United | A740J - B777-346ER JAL |
| | | | |
| --- | --- | --- | --- |
| | | | |
| N347AN - B767-323ER American Airlines | B-18206 - B747-409 China Airlines Skyteam | B-16112 - MD11F Eva Air Cargo | JA734A - B777-381ER ANA |
| | | | |
| --- | --- | --- | --- |
| | | | |
| N357AT - B737-7BD - Air Tran | B-6050 - A340-642 China Eastern | A6-EGC - B777-31HER Emirates | N344AN - B767-323ER American Airlines |
| | | | |
| --- | --- | --- | --- |
| | | | |
| N414UA - A320-232 United | /N416MC - B747-47UF Polar Cargo | N374DA - B737-832 Delta | N420LA - B767-316FER Mas Air |
| | | | |
| --- | --- | --- | --- |
| | | | |
| N484UA - A320-232 United | N502UA - B757-222 United | HL7755 - B777-28EER Asiana Airlines | HP-1537CMP - B737-8V3 Copa Airlines |
| | | | |
| --- | --- | --- | --- |
| | | | |
| N525NK - A319-132 Spirit | N530UA - B575-222 United | B-18712 - B747-409F China Airlines Cargo | B-18206 - B747-409 China Airlines Skyteam |
| | | | |
| --- | --- | --- | --- |
| | | | |
| N534NK - A319-132 Spirit | N548UA - B757-222 United | N608SK - CRJ700 Delta Connection | N640DL B757-232 Delta |
| | | | |
| --- | --- | --- | --- |
| | | | |
| N681TA - A320-233 Taca | N703SK - CRJ700 United | N701BR - CRJ200 United | N969SW - CRJ200 United |
| | | | |
| --- | --- | --- | --- |
| | | | |
| N705DN - B777-232LR Delta | lN717TW - B757-231 Delta Skyteam | N768UA - B777-222 United | N534NK - A319-132 Spirit |
| | | | |
| --- | --- | --- | --- |
| | | | |
| N774UA - B777-222 United | N775AN - B777-223ER American Airlines | N853AE - Embraer145 American Eagle | N856NW - A330-223 Delta |
| | | | |
| --- | --- | --- | --- |
| | | | |
| N872GA - MD83 Allegiant | N931TW - MD83 American Airlines | N947FR - A319-111 Frontier | N750AT - B757-212 Delta |
| | | | |
| --- | --- | --- | --- |
| | | | |
| N956AN - B737-823 American | N3764D - B737-832 Delta | N876GA - MD83 Allegiant | N610CZ - Embraer175 Delta |
| | | | |
| --- | --- | --- | --- |
| | | | |
| VH-OJP - B747-438 Qantas | VH-VPH - B777-3ZGER Virgin Australia | N38268 - B737-824 United | N36207 - B737-824 United |
| | | | |
| --- | --- | --- | --- |
| | | | |
| N76064 - B767-424ER United | N25705 - B737-724 United | N971AN - B737-823 American Airlines | N7548A - MD82 American Airlines |
| | | | |
| --- | --- | --- | --- |
| | | | |
| XA-AGM - B737-752 Aero Mexico | XA-FPP - A300-203B4F Aero Union | XA-VOB - A319-132 Volaris | XA-WAC - Embraer145 Aero Mexico Connect |
| | | | |
| --- | --- | --- | --- |
| | | | |
| XA-FPP - A300-203B4F Aero Union | ZK-NCK - B767-319ER Air New Zealand | B-6053 - A340-642 China Eastern | N380HA - A330-243 Hawaiian |
| | | | |
| --- | --- | --- | --- |
| | | | |
| N616FE - MD11F FedEx | VH-VPF - B777-3ZGER Vitgin Australia | HL8212 - A330-223 Korean | N334SW - B737-3H4 Southwest |
| | | | |
| --- | --- | --- | --- |
| | | | |
| HL7615 - A380-861 Korean | C-FHNP - Embraer190 Air Canada | B-KPS - B777-367ER Cathay Pacific | C-FMWY - B767-333ER Air Canada Star Alliance |
| | | | |
| --- | --- | --- | --- |
| | | | |
| C-GWBF - B737-7CT Westjet | B-2435 - B747-481BSF Yangtze River Express | B-2076 - B777-F6N China Eastern Cargo | C-FTJP - A320-211 Air Canada |
| | | | |
| --- | --- | --- | --- |
| | | | |
| N327SW - B737-3H4 Southwest | F-GZNE - B777-328ER Air France | 9V-SKH - A380-841 Singapore Airlines | EI-DRE - B737-752 Aero Mexico |
| | | | |
| --- | --- | --- | --- |
| | | | |
| N340CA - CRJ700 Delta Connection | B-6051 - A340-642 China Eastern | B-16701 - B777-35E(ER) Eva Air | C-FHIS - Embraer170 Air Canada |
| | | | |
| --- | --- | --- | --- |
| | | | |
| N323AS - B737-990 Alaska | B-KPF - B777-367ER Cathay Pacific | B-2471 - B747-4J6 Air China | G-BNLM - B747-436 British Airways |
| | | | |
| --- | --- | --- | --- |
| | | | |
| N318AS - B737-990 Alaska | B-18207 - B747-409 China Airlines | HL7428 - B747-48E Asiana | B-LIE - B747-467ERF Cathay Pacific Cargo |
| | | | |
| --- | --- | --- | --- |
| | | | |
| N302AS - B737-990 Alaska | HL7755 - B777-28EER Asiana | N149AT - B737-76N Air Tran | N297SW - Embraer120 Skywest |
| | | | |
| --- | --- | --- | --- |
| | | | |
| JA789A - B777-381ER ANA | N210GL - Beech1900 Great Lakes Airlines | D-ABVF - B747-430 Lufthansa | HL7492 - B747-4B5 Korean Air |
| | | | |
| --- | --- | --- | --- |
| | | | |
| N508SW - CRJ200 Delta Connection | N411UA - A320-232 United | N178YV - Beech1900 Great Lakes Airlines | G-VWKD - A340-642 Virgin Atlantic |
| | | | |
| --- | --- | --- | --- |
| | | | |
| N471CA - CRJ200ER United | JA739J - B777-346ER JAL | N233SW - Embraer120 United | N424QX - Dash8-400 Horizon |
| | | | |
| --- | --- | --- | --- |
| | | | |
| N502VL - A319-132 Volaris | N297SW - Embraer120 Skywest | N405SW - CRJ200 Skywest | N425QX - Dash8-400 Horizon |
| | | | |
| --- | --- | --- | --- |
| | | | |
| N443QX - Dash8-400 Alaska Horizon | N440UA - A320-232 United | N431QX - Dash8-400 Horizon | N435QX - Dash8-400 Horizon |
| | | | |
| --- | --- | --- | --- |
| | | | |
| N494TA - A320-233 Taca | JA716A - B777-281ER ANA | N383HA - A330-243 Hawaiian | N440QX - Dash8-400 Horizon |
| | | | |
| --- | --- | --- | --- |
| | | | |
| N516UA - B757-222 United | N517AS - B737-890 Alaska | N526AS - B737-890 Alaska | N535UA - B757-222 United |
| | | | |
| --- | --- | --- | --- |
| | | | |
| N539UW - A321-231 US Airways | N541EA - CRJ700 American Eagle | N548AS - B737-890 Alaska | N558JB - A320-232 Jet Blue |
| | | | |
| --- | --- | --- | --- |
| | | | |
| N562SW - Embraer120 United | N564SW - Embraer120 Skywest | N581UA - B757-222 United | N609SW - B737-7H4 Southwest |
| | | | |
| --- | --- | --- | --- |
| | | | |
| N622VA - A320-232 - Virgin America | N627AW - A320-231 US Airways | N688AA - B757-223 American Airlines | N647SW - B737-3H4 Southwest |
| | | | |
| --- | --- | --- | --- |
| | | | |
| N666UA - B767-322 United | N693BR - CRJ200 Skywest | N703SK - CRJ700 United Express | N705AS - B737-490 Alaska |
| | | | |
| --- | --- | --- | --- |
| | | | |
| N713SW - B737-7H4 Southwest | N714CB - B737-7H4 Southwest | N754AS - B737-4Q8 Alaska | N765SK - CRJ700 United Express |
| | | | |
| --- | --- | --- | --- |
| | | | |
| N768AA - B777-223ER American Airlines | N768JB - A320-232 Jet Blue | N740WA - B747-4H6BDSF World Cargo | N713SY - B737-7Q8 Sun Country |
| | | | |
| --- | --- | --- | --- |
| | | | |
| N779JB - A320-232 Jet Blue | N782CK - B747-4HQF Kalitta Air | N787UA - B777-222ER United | N798UA - B777-222 United |
| | | | |
| --- | --- | --- | --- |
| | | | |
| N816SK - CRJ900 Delta Connection | N849AE - Embraer145 American Eagle | N860NW - A330-223 Delta | N918WN - B737-7H4 Southwest |
| | | | |
| --- | --- | --- | --- |
| | | | |
| N929FR - A319-111 Frontier | lN941AN - B737-823 American Airlines | N954WN - B737-7H4 Southwest | N997AM - B737--76Q Aero Mexico |
| | | | |
| --- | --- | --- | --- |
| | | | |
| PH-BFP - B747-406M KLM | TC-JJG - B777-3F2ER Turkish | VP-BLX - A330-243 Aeroflot | VH-OEG - B747-438ER Qantas |
| | | | |
| --- | --- | --- | --- |
| | | | |
| VH-OQE - A380-842 Qantas | XA-GMV - B737-752 Aero Mexico | XA-VOP - A319-132 Volaris | XA-ZLI - Embraer145 Aero Mexico Connect |
| | | | |
| --- | --- | --- | --- |
| | | | |
| XA-VOI - A319-132 Volaris | JA733A - B777-381ER ANA | B-2086 - B777-39LER Air China | 9V-SGA - A340-541 Singapore Airlines |
| | | | |
| --- | --- | --- | --- |
| | | | |
| JA743J - B777-346ER JAL | N806DH - DC8-73F DHL | HS-TLD - A340-541 Thai | RP-C7471 - B747-4F6 Philippines |
| | | | |
| --- | --- | --- | --- |
| | | | |
| C-GBHZ - A319-114 Air Canada | F-GSQI - B777-328ER Air France | G-VYOU - A340-642 Virgin Atlantic | N165US - A321-211 US Airways |
| | | | |
| --- | --- | --- | --- |
| | | | |
| N333SW - B737-3H4 Southwest | N628VA - A320-232 Virgin America | N621AW - A320-231 US Airways | /N611SK - CRJ700 Delta Connection |
| | | | |
| --- | --- | --- | --- |
| | | | |
| N633VA - A320-232 Virgin America | G-VYOU - A340-600 Virgin Atlantic | 9V-SGC - A340-541 Singapore Airlines | G-BYGC - B747-436 British Airways |
| | | | |
| --- | --- | --- | --- |
| | | | |
| N651SW - B737-3H4 Soutwest | N486UA - A320-232 United | N384HA - A330-243 Hawaiian | N598UA - B757-222 United |
| | | | |
| --- | --- | --- | --- |
| | | | |
| N905FR - A319-111 Frontier | N969SW - CRJ200 United | N9302B - MD83 American Airlines | Bye bye Los Angeles :-) |