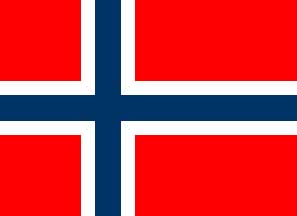 Oslo Gardermoen ( OLS – ENGM ) Website : www.osl.no
Located about 22 miles north of Oslo, the Gardermoen Airport is the Norwegian busiest one. There are a domestic and an international terminal in the center of two runways 01L-19R et 01R-19L like a "H". The landings are usually on the follwing runways : 01R et 19R, the departures on the 01L et 19L. The main airlines based in Oslo are SAS Norge, Braathens and Norwegian. A cargo terminal on the south-west side meet every evening a lot of flights operated by DHL, UPS, TNT with A300F planes, and Korean with a B747-400F, the Oslo's biggest visitor. A second post terminal on the west side meet many post services little planes.
| | | | |
| --- | --- | --- | --- |
| s | | | |
| | | | |
| View outside of the terminal | View inside of the terminal | View of the parking | View of the tower and the radar |
My Oslo's trip begins at Brussels Airport in the early morning, boarding in the Brussels Airlines flight SN2282 (Avro RJ100 OO-DWH). I arrive at Oslo after 2 hours, it's just time to walk about 45 minutes to take some pictures of the approach runway 01R. In the evening, I left this place and walked to the terminal where i coached the free "Car Park" bus to the "Hotel Gardermoen" situated near the approach lights runway 01L. I went to this spotting place to take some pictures of the cargos and regional planes that use to arrive on this runway during the sunset, the light was good till about 11PM ! I slept in this Gardermoen Hotel, the best and cheaper around the airport. The second day and after a short night, I took the bus to the terminal and walked about 1 hour to the approach lights on the east side of the runway 01R. The light was okay from 4.30AM ! About 11AM, the wind changed and the runway 19L was in use for departures. I took some pictures till 1PM and I finally took a taxi to the 19R approach lights in the other side of the airport. I stayed there to take several pictures of the touchdown till the sunset. The third and last day, I went in the city center for some visits and a flew back home with the Brussels Airlines flight SN2284 (Avro RJ100 OO-DWE).
Click on the picture to see in high resolution. All the pictures are made by Cédric Valence
| Le 24 june 2008 | | | |
| --- | --- | --- | --- |
| | | | |
| LN-BRR - B737-505 Braathens | EC-IOR - B737-382 Hola Airlines | LN-BRM - B737-505 SAS Scandinavian | LN-KKM - 3Y0 Norwegian |
| | | | |
| --- | --- | --- | --- |
| | | | |
| | | | |
| LN-KKN - B737-3Y0 Norwegian | LN-TUF - B737-706 Braathens | TF-JXC - MD83 JetX Primera | LN-TUL - B737-705 SAS Scandinavian |
| | | | |
| --- | --- | --- | --- |
| | | | |
| | | | |
| OY-VKC - A321 My Travel Nordic | SE-RDO - A321 Novair | AP-BGK - B777-200 PIA | SE-DJY - Avro RJ85 SAS Scandinavian (Transwede ) |
| | | | |
| --- | --- | --- | --- |
| | | | |
| OK-EGP - B737-45S CSA | OY-CIU - ATR42 Danish Air Transport | OO-DLI - A300F DHL | LN-KKS - B737-33A Norwegian |
| | | | |
| --- | --- | --- | --- |
| | | | |
| LN-WFP - Dash8-400 Wideroe | TF-FID - B757-200F TNT | SE-KXG - Saab340 Goldenair Poste | SE-LGV - British Aerospace ATP West Air Europe Cargo |
| | | | |
| --- | --- | --- | --- |
| Le 25 juin 2008 | | | |
| | | | |
| LN-KKF - B737-3K2 Norwegian | LN-RRL - B737-400 SAS Scandinavian (Star Alliance) | ES-ABK - B737-300 Estonian | LN-KKH - B737-3K2 Norwegian |
| | | | |
| --- | --- | --- | --- |
| | | | |
| | | | |
| LN-KKT - B737-3L9 Norwegian | LN-KKW - B737-3K9 Norwegian | LN-KKX - B737-33S Norwegian | LN-KKU - B737-3L9 Norwegian |
| | | | |
| --- | --- | --- | --- |
| | | | |
| | | | |
| LN-KKY - B737-33S Norwegian (special colors) | LN-RMP - MD87 SAS Scandinavian | LN-NOC - B737-81Q Norwegian | LN-TUF - B737-706 Braathens |
| | | | |
| --- | --- | --- | --- |
| | | | |
| | | | |
| LN-TUJ- B737-706 SAS Scandinavian | LN-KKQ - B737-36Q Norwegian | OY-MRJ - B737-7L9 Sterling | OH-BLD - MD80 Blue1 |
| | | | |
| --- | --- | --- | --- |
| | | | |
| | | | |
| YL-BBE - B737-500 Air Baltique | LN-BRS - B737-505 SAS Scandinavian | LN-RRE - B737-800 SAS Scandinavian | LN-KKE - B737-3K2 Norwegian |
| | | | |
| --- | --- | --- | --- |
| | | | |
| | | | |
| D-ACRD - CRJ200 Eurowings | G-STRH - B737-500 Astraeus | LN-KKG - B737-3K2 Norwegian | LN-NOC - B737-81Q Norwegian |
| | | | |
| --- | --- | --- | --- |
| | | | |
| | | | |
| LN-KKL - B737-36N Norwegian | LN-KKY - B737-33S Norwegian ( special colors ) | 9A-CDA - MD80 Dubrovnik Airline | LN-KKZ - B737-33S Norwegian (special colors) |
| | | | |
| --- | --- | --- | --- |
| | | | |
| | | | |
| LN-NOD - B737-81Q Norwegian | LN-RRL - B737-400 SAS Scandinavian (Star Alliance) | OY-MRC - B737-7L9 Sterling | PH-BGB - B737-8K2 KLM |
| | | | |
| --- | --- | --- | --- |
| | | | |
| | | | |
| LN-BRH - B737-600 SAS Scandinavian | EC-KBQ - A320 Iberworld | LN-KKL - B737-36N Norwegian | LN-KKZ - B737-33S Norwegian (special colors) |
| | | | |
| --- | --- | --- | --- |
| | | | |
| | | | |
| OY-CIU - ATR42 Danish Air Transport | SE-MAH - British Aerospace ATP West Air Europe Cargo | LN-RNC - Fokker 50 SAS Scandinavian | SE-DUX - CRJ200F West Air Europe |
| | | | |
| --- | --- | --- | --- |
| | | | |
| | | | |
| LN-RRT - B737-800 SAS Scandinavian | SE-MAP - British Aerospace ATP West Air Europe Cargo | TC-APJ - B737-800 Pegasus | SE-DZN - B737-800 TUI Fly Nordic |
| | | | |
| --- | --- | --- | --- |
| Le 26 juin 2008 | | | |
| | | | |
| LN-RRT - B737-800 SAS Scandinavian | RA-85810 - TU154 Aeroflot | RA-54899 - IL96 Silk Way | |
Back to the Europe map Back to the Index