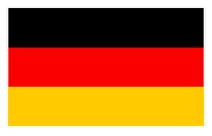 Berlin Schönefeld - ( SXF - EDDB ) Website : berlin-airport.de
Localised on the south of Berlin, the Schönefeld Airport is the second most important of the German capital, and mainly used by the low-cost companies like Germanwings, Air Berlin, Easy Jet and Ryanair, and some charters flights. There are two runways situated on the south of a terminal, called 25L-07R and 25R-07L. A neighbour second terminal dedicated to Germanwings just opened in June 2007.
| | | | |
| --- | --- | --- | --- |
| View of the main terminal | View inside of the terminal | View of the observation desk where were token the pictures | |
My Berlin's trip begins at Brussels, I coach the international 243 night train Paris – Berlin. I arrived in Berlin in the early morning after a quiet night in the sleeping train. Unfortunately, the rain falled during all the day. I took all my pictures from the observation desck on the roof of the airport terminal.
All the pictures were made by Cedric Valence
| 29 september 2007 | | | |
| --- | --- | --- | --- |
| | | | |
| G-EZNM - A319 Easy Jet | D-ABAP - B737-800 Air Berlin | D-AKNO - A319 Germanwings | EI-DET - A320 Aer Lingus |
| | | | |
| --- | --- | --- | --- |
| | | | |
| | | | |
| D-ALTL - A320 LTU | 9A-CTM - A320 Croatia ( Star Alliance ) | D-AKNM - A319 Germanwings | D-AICI - A320 Condor |
| | | | |
| | | | |
| --- | --- | --- | --- |
| | | | |
| EI-DET - A320 Aer Lingus | G-EZEW - A319 Easy Jet | SU-GBU - A321-200 Egyptair | EI-CDH - B737-548 Pullkovo ( Rossiya ) |
| | | | |
| --- | --- | --- | --- |
| | | | |
| | | | |
| TC-SKE - B737-400 Sky Airlines | | | |
Back to Europe map Back to Index